SIGMA Introduces Appraisal Division Led by Randa Doleh
RELEASED: 2/2/2021 10:01:59 AM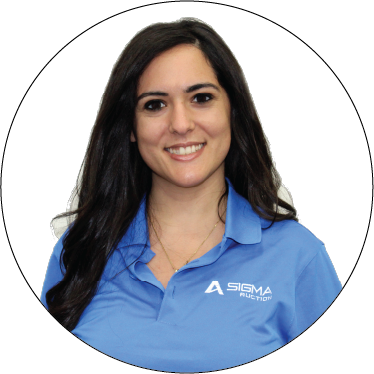 SIGMA Equipment, in Evansville, IN, announces the addition of their Appraisal Division with Randa Doleh as Division lead.
(Evansville, IN) 2/9/2021 SIGMA Equipment, in Evansville, IN, announces the addition of their Appraisal Division with Randa Doleh as Division lead.
For almost 20 years, SIGMA Equipment has worked diligently to grow its company knowledge and become one of the most versatile names in the used equipment industry. Today, SIGMA is proudly announcing the addition of their newest division, SIGMA Appraisal. Since its launch in July 2020, SIGMA Appraisal has been efficiently and accurately determining the value of equipment and providing Uniform Standards of Professional Appraisal Practice (USPAP) compliant reports. At the forefront of SIGMA's Appraisal Division is Senior Appraiser, Randa Doleh.
"We've worked hard to continuously expand and improve upon our services at SIGMA. The addition of another division gives us the opportunity to provide our customers with a complete suite of services for their equipment needs," said CEO Rob Palmer. "Randa has been with SIGMA the past 4 years and is well versed in the equipment industry, upon learning more about how appraisals could assist our clients, she took it upon herself to get certified and in doing so, it became the obvious choice to have her head our Appraisal division."
Doleh leads the Appraisal department from both a divisional growth standpoint and as a Senior Appraiser. Her accreditation as an Accredited Member with the American Society of Appraisers (ASA) provides her with a high level of knowledge and overall understanding of the appraisal process as a whole. Randa searches for prospects and opportunities for appraisals that can help her clients realize the true value of their equipment. Once she begins working with a client, she will go through the appraisal process of expertly gathering all the information needed in order to deliver reports that comply with the ethics, standards, and regulations set forth by the Appraisal Foundation in USPAP.
"The addition of a division dedicated specifically to valuations and appraisals gives us an improved and more organized approach to utilize our extensive equipment knowledge to help customers make informed decisions about their machinery and equipment," says Doleh. "I'm excited to head our team of certified appraisers and take the next steps in continually building upon the Appraisal division."
Meet Our Senior Appraiser
Aside from the Appraisal Division, Randa also serves as Business Systems and Analytics Manager for SIGMA. She leads internal business development projects and works on optimizing SIGMA's workflow processes by leveraging data to drive better decision making and outcomes.
Doleh was born and raised in Lebanon, making her fluent in Arabic as well as semi-fluent in French. She graduated from the University of Southern Indiana with an undergraduate degree in Economics and a Masters in Business Administration. Prior to SIGMA, she worked in Marketing Operations and Analytics and was an Economics instructor at her alma mater, USI. She is a co-author on a publication about the role of intellectual stimulation in the supervisor-employee relationship that was published in the Journal of Health and Human Services Administration and is currently working on another paper about team dynamic effects of different compensation schemes. Randa serves on the Board of Trustees for the Evansville Museum of Art, Science, and History and is also the Chair of the Marketing Committee there.
For more info on SIGMA's new division, SIGMA Appraisal, please get in contact with one of our team members or visit its website by clicking here.
About SIGMA Equipment
Founded as Sigma Packaging in 2003, SIGMA Equipment serves manufacturing businesses through the buying and selling of used packaging and processing equipment. Headquartered in Evansville, Indiana, SIGMA specializes in equipment for the food & beverage, pharmaceutical, health & beauty, consumer goods and contract packaging industries. The company pioneered our own online system for connecting equipment buyers and sellers via the internet, engaging the secondary market for packaging, processing and support equipment; SIGMA continues to lead the industry by using the latest technologies to facilitate the marketplace for used equipment. SIGMA Equipment also offers a suite of engineering and technical services in support of the industry's packaging and processing equipment needs.