SIGMA Equipment Launches Mobile App
RELEASED: 5/31/2016 11:42:00 AM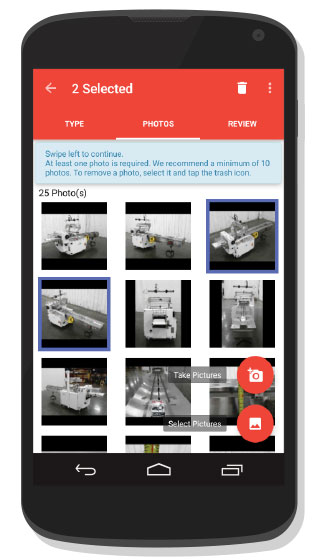 (Evansville, IN) June 1, 2016 -- SIGMA Equipment announced today the launch of its new mobile app, available for Android™ devices.
The SIGMA Equipment app allows users to create and upload equipment listings from a phone or tablet. The app is named, simply, SIGMA Equipment.
By giving customers a better way to create listings when using a mobile device, SIGMA hopes to increase the selection of equipment it offers. Each listing is reviewed by an Acquisition Specialist, who helps the customer refine the information that will help the equipment sell quickly.
"From the beginning of this company, we have always built our own software so we can tailor our technology to our customers' needs," said Rob Palmer, Company Founder. "Creating an app to accompany our website was the next step on that path."
SIGMA Equipment includes several app features to help customers optimize a listing, such as helping the customer identify the manufacturer, and requiring at least one photo for each listing. SIGMA recommends that each listing submitted through the app should have at least 10 photos. The app is able to access existing photos from the device's camera roll, or open the camera to take new photos.
An internet connection is required to download the app, as well as to upload the finished listings to the SIGMA website, but a listing can be created and saved to the phone without internet access.
"Our customers need to be able to go into a warehouse, which may not have internet access, and record all of the information to create a listing for a piece of surplus equipment," said Patrick Johnson, IT Director. "The limited internet access in many warehouses is what inspired us to make an app that functions without constant access."
Unlike similar apps that require each listing to be uploaded as it is created, SIGMA Equipment lets users save listings on the mobile device to upload them at a later time.
"When a customer goes out to a warehouse to create listings for surplus equipment, there may be one, ten, or 100 pieces to list," said Johnson. "With this app, a customer can store as many listings as they have space on their device."
The app, SIGMA Equipment, is free on Google Play™.   

###
Celeste Gossmann
Marketing Specialist
P: (812) 303-8383
Founded as Sigma Packaging in 2003, SIGMA Equipment serves manufacturing businesses through the buying and selling of used packaging and processing equipment. Headquartered in Evansville, Indiana, SIGMA specializes in equipment for the food & beverage, pharmaceutical, health & beauty, consumer goods and contract packaging industries. The company pioneered our own online system for connecting equipment buyers and sellers via the internet, engaging the secondary market for packaging, processing and support equipment; SIGMA continues to lead the industry by using the latest technologies to facilitate the marketplace for used equipment. SIGMA Equipment also offers a suite of engineering and technical services in support of the industry's packaging and processing equipment needs.