SIGMA Equipment Completes Indoor Wash Bay Expansion
RELEASED: 4/4/2017 8:00:00 AM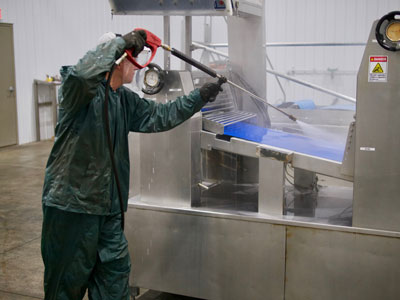 SIGMA Equipment announced today the completion of a 3,500 square foot indoor wash bay.
SIGMA will use the space to speed up the equipment intake process and maximize cleaning efficiency. Construction began on the $100,000 project in August 2016.
The wash bay will enable SIGMA Equipment to easily clean equipment on-site within the main warehouse. "We have designed access to the wash bay from the outside and the inside doors," said Operations Manager Wes Weaver. "The outside doors allow us to bring equipment in straight from the shipping trailer and place the equipment in the wash bay for cleaning before it enters our warehouse."
Most equipment will be cleaned using high pressure steam, while control panels will be cleaned with compressed air to remove any dust that may have collected during storage or previous use. A contaminant separation pit was installed to properly dispose of any pollutant residue from the equipment.
A Cold Jet Ice Blaster is also a part of the new cleaning addition. Using compressed CO2, or dry ice, it is an efficient, cost-effective and environmentally responsible way to clean machines without the use of water. The touchless system removes old residue and prepares the equipment for reassembly without causing damage to the equipment.
Following the cleaning process, each piece of equipment will rest in a heated dry environment for 3 days. This allows any excess water to dry before the machine is reassembled and tested.
"This wash bay is a great addition to our cleaning services," said Shop Supervisor Jim Dougan. "It will be much easier and quicker for the warehouse staff to get equipment ready for our documentation process, and ready for testing or repairs in the shop."
The indoor wash bay is one of several projects SIGMA has planned for 2017. Upcoming projects include building additional offices for the growing staff, and expanding the SIGMA Recovery and SIGMA Surplus divisions.
###
Celeste Gossmann
Marketing Specialist
P: (812) 303-8383
Founded as Sigma Packaging in 2003, SIGMA Equipment serves manufacturing businesses through the buying and selling of used packaging and processing equipment. Headquartered in Evansville, Indiana, SIGMA specializes in equipment for the food & beverage, pharmaceutical, health & beauty, consumer goods and contract packaging industries. The company pioneered our own online system for connecting equipment buyers and sellers via the internet, engaging the secondary market for packaging, processing and support equipment; SIGMA continues to lead the industry by using the latest technologies to facilitate the marketplace for used equipment. SIGMA Equipment also offers a suite of engineering and technical services in support of the industry's packaging and processing equipment needs.