Tunnel Oven Fact Sheet
Tunnel ovens use different conveyor speeds, heating methods, and fuel types to produce breads, cooked meats, and other items. Use this information to select the right tunnel oven for your needs.
Overview
Tunnel ovens use different conveyor speeds to allow different cooking or baking times. A tunnel oven is continuous, rather than using a batch process. Tunnel ovens can be used to produce bread, pies, cakes, cooked meats, and many other items. Product moves through the oven on a conveyor.
Different heating methods and fuel types are used to heat the product traveling through a tunnel oven, each with their own benefits. The efficiencies of the heating method and type, as well as other oven features, must be considered by the buyer when determining if a particular oven will fit a project's needs.
Heating Method Types
Different heating methods are used in tunnel ovens to achieve different results.
Direct Fired
In a direct fired oven, burners are typically positioned below the cooking cavity, allowing hot gases to pass through the cooking cavity rather than around it. Heat is transferred directly from the hot gases to the food. Direct fired ovens are often used for products baked at or above 1100 degrees Fahrenheit. This type of oven has multiple zones, independent top and bottom heat, and variable-velocity air turbulence, which allow for precise temperature and humidity control.
Indirect Fired
In an indirect fired oven, ovens and heat exchangers are typically located outside of the cooking cavity. Air is passed over the heating elements, then circulated through the cooking cavity to cook the food at the desired temperature. This type of oven also has multiple zones and independent top and bottom heat, as well as precise temperature and humidity control to ensure a consistent product.
Air Impingement
An air impingement oven uses hot air forced over the surface of the product at a high speed, breaking through the cooler thermal boundaries of the product. This type of oven is energy efficient, with low operating costs and emissions.
Heating Source Types
Ovens are generally fueled by either gas or electric energy. Electric is the most common heat source, and electric ovens are simple to operate and maintain. Electric ovens are able to heat separate zones to different temperatures. Gas ovens offer low operating costs, although the initial cost of the machine can be a little higher than an electric oven. Gas ovens are able to reach high temperature quickly, making them more energy efficient.
Infrared technology can be used in ovens, and can be powered by either gas or electric energy. Thermal energy is transferred in the form of electromagnetic waves. Infrared technology can be used as a primary heat source or as an optional burner. This type of heat is especially effective for surface browning, drying, curing, and melting product toppings.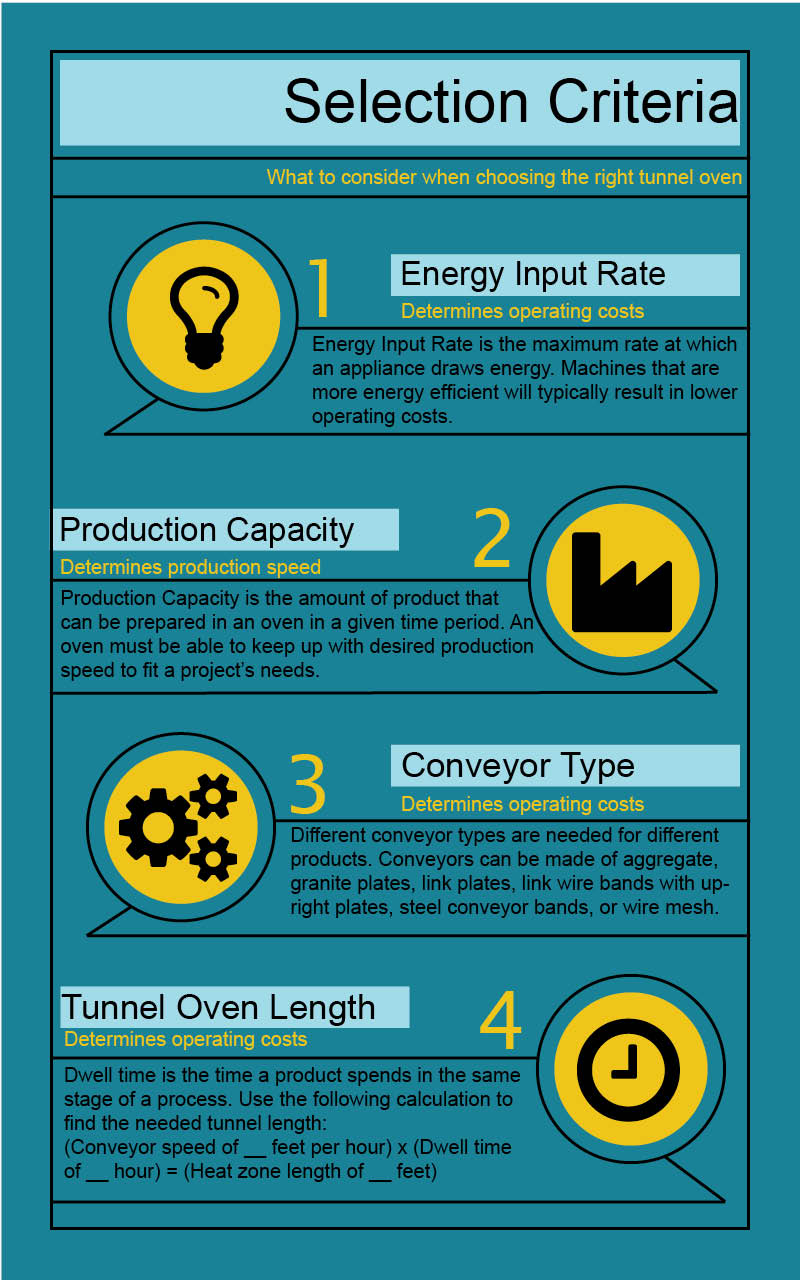 Relevant Industries
Tunnel ovens are typically used to process food. They are common in the bakery industry, as well as meats and other foods. Tunnel ovens can also be used to cure materials, such as in the production of automotive parts.
Benefits
The main benefit to using a tunnel oven versus a batch style oven is that a tunnel oven allows for continuous production of the food items. There is no down time in between batches, such as with a rack oven or deck oven.
Common Features
Dual-Fuel tunnel ovens minimize downtime and product waste in regions of the world where utilities are unreliable. Featuring two independent heating systems, such as electric and fuel oil, they provide an alternative energy source when the other source is unavailable.
Hybrid tunnel ovens allow for mixing heating technologies, giving the benefits of each of two or more heating methods in a single machine.
---
Categories:
Tunnel Oven