SIGMA Surplus Launches Website Redesign
RELEASED: 7/12/2017 9:10:00 AM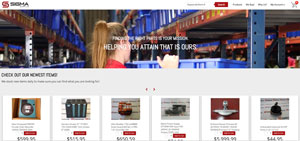 SIGMA Surplus, a division of SIGMA Equipment Inc., launched today a complete website redesign.
Created with user experience in mind, the redesign offers simplified navigation and a more precise search function to help customers quickly find the parts they need. Enhanced category pages allow customers to browse through similar items before making a selection.
"We wanted to give the site a more modern feel," said IT Programmer Steven Stone, "and also incorporate new technologies to make sure we're giving our customers the best possible experience." The mobile-friendly responsive design allows users to view the site on any size screen, from desktop to phone.
"SIGMA Surplus has a large inventory, so during this redesign it was very important to us that we improved the search capability," said SIGMA Surplus Manager Jenny Harris. "We want our customers to be able to find what they need quickly and easily. We want to build relationships with our customers, and giving them a great experience is central to that goal."
The improved shopping cart feature simplifies the ordering process by removing the need for third party sites to complete the transaction. Now, customers can add multiple items to their cart, and use PayPal to make a secure payment. The new account feature allows customers to view past purchases and manage other account details.
SIGMA Surplus plans to continuously improve the site as new technologies and innovations become available. Interested users are encouraged to explore the website and sign up for newsletters and featured listings at sigmasurplus.com.
Established in 2013, SIGMA Surplus specializes in purchasing and selling quality pre-owned mechanical, industrial and electrical components.
###
Celeste Gossmann
Marketing Specialist
P: (812) 303-8383
Founded as Sigma Packaging in 2003, SIGMA Equipment serves manufacturing businesses through the buying and selling of used packaging and processing equipment. Headquartered in Evansville, Indiana, SIGMA specializes in equipment for the food & beverage, pharmaceutical, health & beauty, consumer goods and contract packaging industries. The company pioneered our own online system for connecting equipment buyers and sellers via the internet, engaging the secondary market for packaging, processing and support equipment; SIGMA continues to lead the industry by using the latest technologies to facilitate the marketplace for used equipment. SIGMA Equipment also offers a suite of engineering and technical services in support of the industry's packaging and processing equipment needs.